Voici une petite présentation des chevaux célèbres du western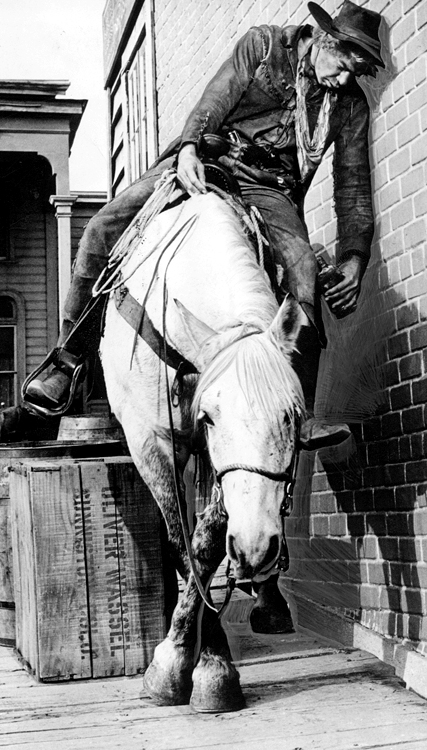 On ne sait pas grand chose ce cheval gris (plutôt lourd, croisé trait ?) si ce n'est qu'il était la propriété de Fat Jones et qu'il était entrainé par Al Janks. Son travail fut récompensé par un "Craven Award" donné par "the American Humane Association". Il était un "acteur" de comique tout comme Dice et Little Trigger.
L'image au-dessus est la plus connue de Smokey, les jambes croisées avec un Lee Marvin complètement soûl... Smokey était en réalité drogué pour cette scène!
Lee Marvin reçut un Oscar en 1966 pour sa performance et il ne put s'empêcher de rire en mentionnant son équipier saboté.


King Cotton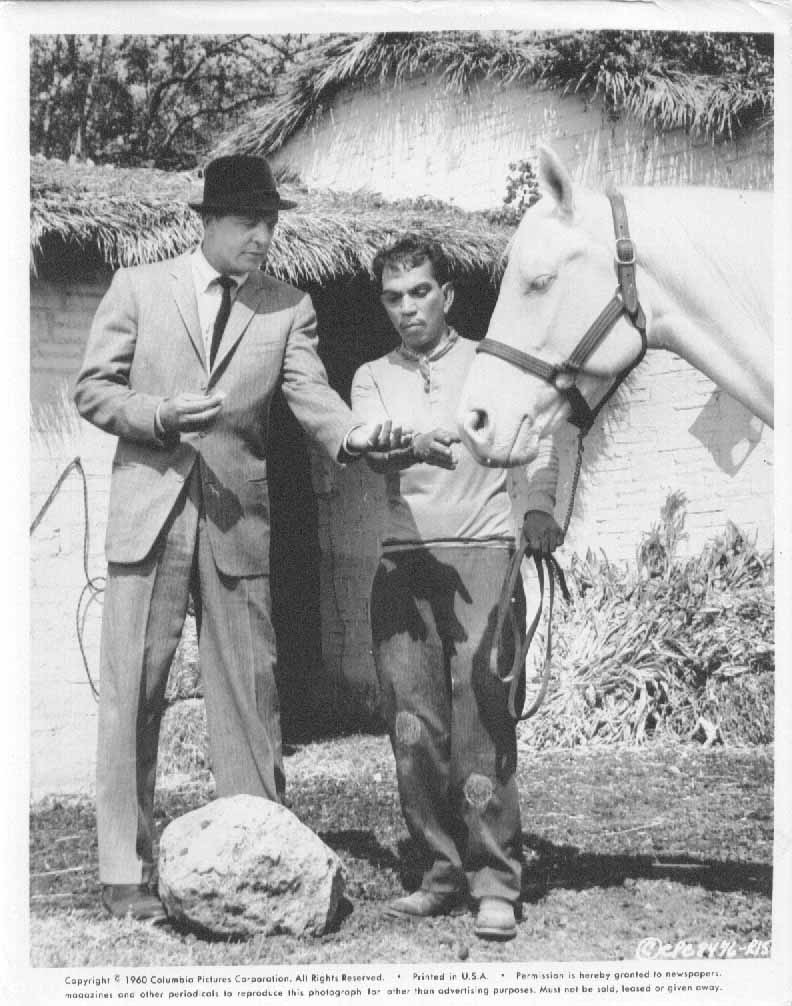 King Cotton était un grand étalon American Saddlebred croisé morab (morgan-arabe) blanc appartenant à Ralph McCucheon.
On le remarque dans la comédie "Pepe", dans laquelle un pauvre palefrenier élève depuis poulain l'étalon qu'il aime, Don Juan. Quand l'étalon est mis aux enchère, Pepe prétend que Don Juan est malade pour qu'il ne soit pas vendu. Mais un directeur déchu de films navets ruse et achète le cheval verron à un prix cassé. Pepe s'envole pour Hollywood. Tout le long du film, Pepe nomme l'étalon son fils créant des confusions. Heureusement ce gag (un peu fatiguant à la longue) est contrebalancé par les apparitions de King Cotton.
Pour ce film, King Cotton a été entrainé à boiter et nage dans une piscine. Autrement il savait faire les mêmes "tricks" que Dice. Il reçut un PATSY Award de l'"American Humane" pour ses efforts.
Sa carrière continue tout au long des années 60, on l'aperçoit dans "Diamond Head" monté par Charlton Heston (1962) et apparait dans la série du Virginien. Le dernier film que l'on lui connaisse est "Viva Max" (1969) avec Peter Ustinov.
Son charisme en faisait un excellent cheval de cinéma.
Old Fooler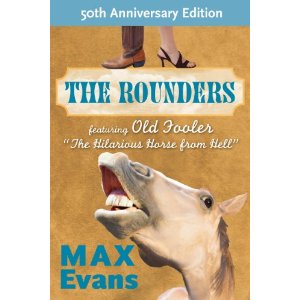 Ceux qui ont vu "the Rounders" (1965) (le mors aux dents en français) s'en souvienne forcément ! Cet étonnant quarter horse rouan rouge donne du fil à retordre aux cowboys Ben Jones (Glenn Ford) et Howdy Lewis (Henry Fonda).
Sa mère fut achetée par V.J. Spacey à une vente aux enchères à Lancaster (CA), la jument chocolat rouan se révéla être pleine.
Old Fooler fut acheté à l'âge de 3 ans par Fat Jones et fut entrainé par Ken Lee. Selon celui-ci le jeune cheval était mi-gaté, mi-sauvage.
Le Directeur Burt Kennedy recherchait des chevaux susceptible de jouer dans les Rounders et le "casta".
Après 8 mois d'entrainement le cheval était prêt, il savait s'asseoir, mordre sur demande, trainer quelqu'un dans la boue, détacher les noeuds...
On le voit aussi dans "Flap" (1973) dans le rôle d'un cheval saoul, H-Bomb, buvant une bouteille ...
Whiskey (il semblerait que ce soit son vrai nom)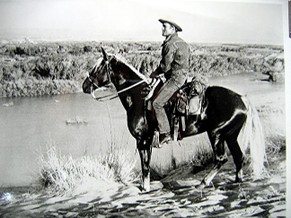 On s'en souvient, la magnifique jument alezan brûlé crin lavé (gène silver ou silver bay) de Jack Burns (Kirk Douglas) dans "Lonely are the Brave" (1963). Décrite dans le film comme une croisée appaloosa, elle ressemble plus à un saddlebred et est en réalité un hongre... Il appartenait au Meyers and Wills Stables et était entrainée par Drew Stanfield. C'était un hongre de "tricks".
A la fin de l'histoire de "lonely are the brave", la mort de Whiskey signifie la mort du western (ce qui n'est pas tout à fait vrai). Whiskey joue ainsi un rôle très important.
Country Deligh
Flicka est jouée par une pouliche American Saddlebred alezane de 7 mois appartenant à Thomas H. Wright. Elle n'avait aucune expérience de cinéma en commençant mais son dresseur, Jack "Swede" Lindell fit rapidement le nécessaire.
Elle est souvent doublée par d'autres chevaux en raison des nombreuses cascades dangereuses du personnage de Flicka (se retrouver coincée dans des fils barbelés même si les barbelés ne sont pas des vrais etc)

Dans la série télévisée de "My Friend Flicka" (1956), Flicka est jouée par Wahama, une arabe alezane. Celle-ci était doublée par Goldie, une pur sang. Goldie était assez difficile, de ce fait la jeune star inexpérimentée de la série, Johnny Washbrook, n'avait pas le droit de la monter et était doublé par une cavalière plus accomplie.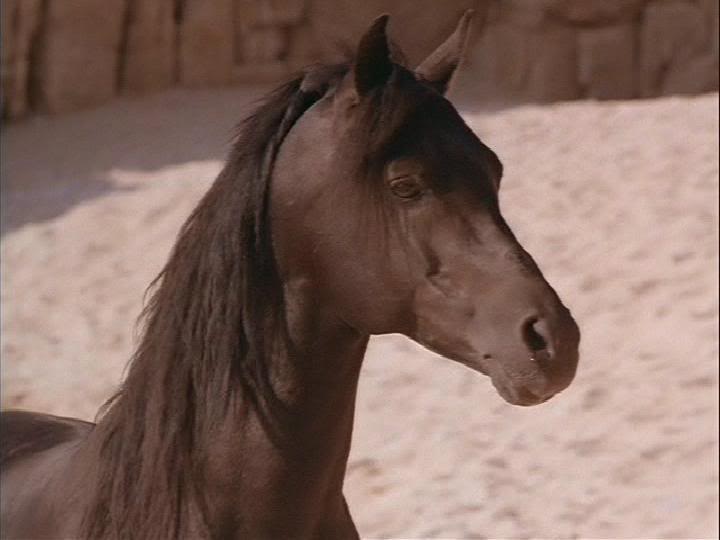 Cass Olé, un pur sang arabe élevé en 1969, eut beaucoup de succès en show. Dans les année 70 il fut nommé American Horse Shows Association Horse of the Year pour tous les élevages et gagna le championnat national d'A
rabian western pleasure.
Absolument magnifique (les mots sont faibles...), un caractère facile et une présence incroyable lui valurent le rôle de Black. Il n'était pas entièrement noir, 4 balzanes et une liste furent camouflées pour le film.
Son tempérament et son intelligence rendit le travail de son entraineur, Corky Randall, très facile.
5 chevaux doublèrent Cass Olé pour les scènes de batailles, de courses et de natations. les deux qui firent les scènes de la fuite du jardin d'Alec, étaient des quarters horses alezans (teintés noirs pour le film) apparentant au frère de Corky Randall, Glenn Randall Jr. Deux camarguais furent utilisé dans les scènes de natations pour leur habilité à nager. Etant blancs, ils furent eux aussi teints. Le dernier double était un arabe nommé Fae-jur.
Ce film rendit Cass Olé connu internationalement. Il participa même en 1981 à la Presidential Inauguration.
Il joua ensuite dans "the Black Stallion Returns"
Docs Keepin Time était un American Quarter Horse noir surtout connu pour avoir incarné Black Beauty dans le film adapté en 1994 de la nouvelle d'Anna Sewell. Après une carrière infructueuse de cheval de course, il est devenu l'un des chevaux de cinéma les plus recherchés. A part cette prestation Docs Keepin Time a tourné des publicités pour la marque de bière Busch, et aussi incarné Black dans la série pour la télévision américaine intitulée les aventures de l'étalon noir (Adventures of the Black Stallion) et aussi Gulliver dans le film L'homme qui murmurait à l'oreille des chevaux (The Horse Whisperer).
Lui-même 5e génération descendant du célèbre War Admiral, Docs Keepin Time a engendré beaucoup de chevaux célèbres : deux de ses fils sont Samsons Keepin Time et Starrin Doctor Sunny, un troisième est Keepin Charge qui a suivi les traces (de sabots) de son illustre père. Keepin Charge a tourné dans le film Appaloosa (2008) avec Ed Harris et Viggo Mortenson.
Apache
Bob Baker a voulu un type de cheval qui n'a pas été utilisé dans des westerns.Après mainte recherche il trouvera un Pinto dans un ranch de Flagstaff en Arizona.
Tom Mix et Tony (surnom : The Wonder Horse)
Tony, l'original
Né 1899 et très bien dressé, Tony (l'original, Sr) faisait lui aussi des cascades étonnantes (et relativement dangereuses) comme sauter dans une piscine, par dessus un portail hérissé de pointes, marcher sur des passerelles branlantes etc (il fut néanmoins assez gravement blessé lors d'une explosion). On peut l'apercevoir dès 1917 jusqu'à la fin des années 20 et dans plus de 181 films ! C'était un alezan typé quarter avec deux balzanes aux postérieurs ainsi qu'une liste terminant en ladre (notez que la liste s'affine aux dessus des naseaux). Il fut le premier cheval dont l'empreinte fut marquée aux côtés des pieds de Mix à Grauman's Chinese Theater à Hollywood.
Vieux et malade, il appartint alors à l'avocat de Mix, Ivon Parker. Il mourut le 12 octobre 1942
Tony Sr
Néanmoins il y eut un autre cheval avant Tony : Blue, né le 14 juillet 1897, tué le 29 janvier 1919.
Blue
Le second Tony (Tony Jr) apparait au début des années 30, il est également alezan mais a quatre balzanes et une longue liste.
Tony Jr
Tony II est un tovero alezan (?) que Mix monte entre 1937-38. Il fut emmené en Europe pendant la tournée 1938-39.
Filmographie : http://www.imdb.com/name/nm1209936/